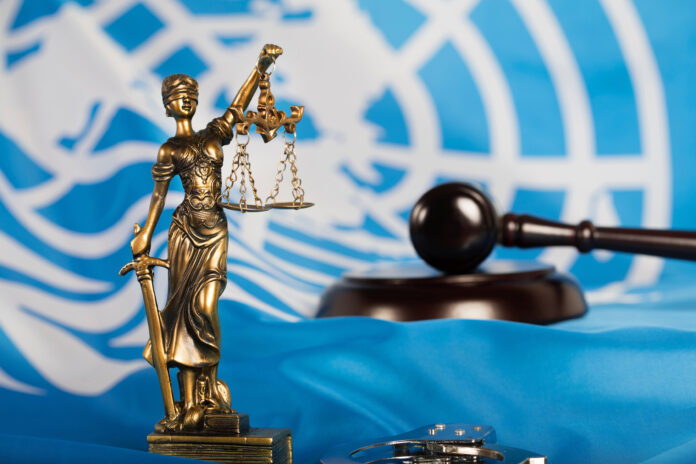 Four principles dictate the revolutionary United Nations Security Council Resolution 1325 on Women, Peace and Security. UNSCR 1325 was based on the following four principles: Participation. Protection. Prevention. Relief and Recovery. Full implementation of the resolution would break down unequal power relations between women and men, thus addressing structural barriers that impede progress on the way to bringing peace to the world. This resolution builds upon the 1948 UN Universal Declaration of Human rights, whereby gender equality was added as an essential component of universal human rights.
Despite these two UN resolutions, security (cybersecurity, economic security, environment security and many other related fields) remains the worst for upholding gender equality. This fact begs the question: what is driving such a stark gender inequality within the security sector and its institutions? Seemingly, women are omitted from peace processes and peacekeeping missions. They are also excluded from political decisions in principle due to a myriad of biases. For example, women are often expected to use a soft approach. Yet this expectation clashes with the stereotypical behavior of male negotiators: stubborn, demanding, and sometimes impolite. Since it is considered unacceptable to be bad mannered to women, especially in diplomatic circles, some men consider this accommodation unsuitable as it impedes their accustomed style of negotiations. Similarly, according to former EU High Representative Mogherini, many male officials see a soft approach as a weakness when it comes to peace and security since different players are more likely to measure their relative power and options during the negotiations by bold proclamations and aggressive rhetoric. Consequently, with the participation of women, interlocutors are more apt to continue the negotiations without any escalation. Ms. Mogherini concluded, "soft-spoken women can put men off. It is soft-spoken men who cannot put men off." Caroline Criado Perez also touches on this topic and in her thought-provoking book, Invisible Women: Exposing Data Bias in a World Designed for Men, flipping the script by showing that women can be the guarantors of peace talk arrangements. More importantly, she highlights that peace achieved with their participation lasts longer.
A strong stance for gender equality is visible within the capital of Austria, Vienna. This international city seems to be advocating for and supporting the development of women's involvement across sectors, but also in the security sector. Six out of 12 ministerial positions in Austria are held by women. However, there is still room for improvement. At the Ministry of Defense led by Ms. Klaudia Tanner, only 28% of positions are occupied by women as of March 2020. Within the Austrian Foreign Ministry, only 35% of Austrian diplomats are women. Still, the city of Maria Theresa, Bertha von Suttner, and Beate Sirota Gordon hosts a multitude of influential organizations fostering gender equality and empowerment of women such as Diplomats for Equality, International Gender Champions network, and Women in Nuclear.
Yet, critical data, such as the aforementioned Austrian figures, sometimes can be forgotten and overlooked. In "A Women's Guide to Security Sector Reform," the Institute for Inclusive Security points out that women and girls have different security needs than men and boys. Well-known lawyer and international human rights and gender expert Julie Arostegui further argues that since women are half of the population, they have a crucial role within the society. In addition, 95% of victims of domestic violence are women. During armed conflicts, women are more likely than men to be found near water locations and agriculture zones, which are bombed and attacked by armies more frequently, thereby exposing women to a higher chance of injury or death among the civilian population. Bearing in mind that women are more affected by violence, their concerns must be heeded. Unfortunately, they are more likely to have a better understanding of what it is like to be attacked, to experience someone's violence. Yet the importance of women's involvement in conflict resolution is not confined, nor defined, by their victimhood. Instead, women play a constructive and proactive role in security negotiations: encouraging women's participation in peace negotiations has been proven to increase the chances of violence ending within a year by 24%. The numbers speak for themselves. 
Merging theory with practice, the head of the Institute for Inclusive Security and former Ambassador of the USA to Austria Swanee Hunt was one of the main masterminds behind bringing Bosnian women to the negotiation table in Vienna during the peace talks of the Bosnian War. Later, in "World Apart: Bosnian Lessons for Global Security" and "Bosnian Women reclaiming for Peace," Ms. Hunt would defend inclusive security as a better way to bridge the world through including women's voices in the security sector.
Fast forward to October 31, 2020. It is clear that the current situation is not perfect. By not incorporating women into the security sector, countries are unnecessarily prolonging a conflict and depriving themselves of potential cooperation that could not be achieved otherwise. Women are agents of peace. They have proven to be influential and meaningful at both political and diplomatic battlefields. This first SC resolution from 2000 on women highlights the importance of women's roles in conflict prevention and maintaining peace and security. A gender-biased security field undermines international peace. Moreover, it has been shown that empowering women spurs sustainable peaceful solutions and strong security institutions. 
In a joint statement addressing female engagement, the Vienna-based UN entities stated, "we must do better." To start, national security leaders need to change the mindset within the international security paradigm and make what was once invisible an essential part of future security, namely the inclusion of women. We are affected differently: we are all in the same storm, but in different boats.
Edited by James Butler; Photo credit: tolikoff2013, Adobe Stock