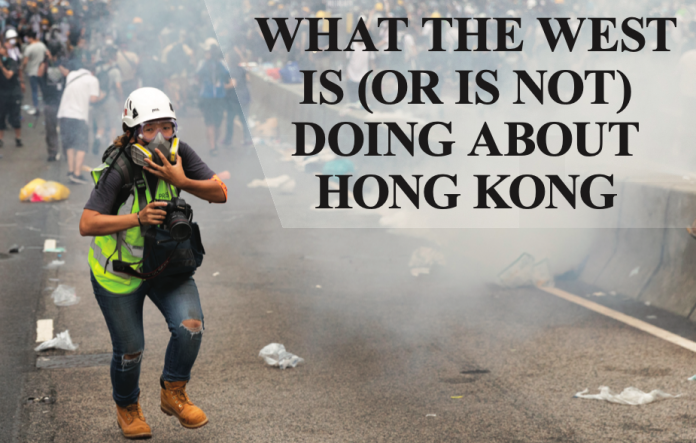 November 11 2019, was a full day of protests: for 12 hours thousands of demonstrators dressed in all black wearing face masks in solidarity with pro-democracy demands in Hong Kong. This left Hong Kong's leader Carrie Lam Cheng Yuet-Ngor questioning whether or not it was safe to live in the city. 60 civilians were injured and two protestors died in just one day. Sadly, this has been typical in Hong Kong since June this year. Busy streets have been shrouded in tear gas. There have been escalations on university campuses and points of transit have been flooded with enraged student protestors. Most recently, there have even been deaths and severe injuries from reckless firearm usage by the Hong Kong Police Force. According to the BBC, protestors are demanding five things:

(1) that the protests are not classified as "riots"
(2) that those arrested be granted amnesty
(3) the opening of an independent commission of inquiry into police brutality
(4) that complete universal suffrage should be implemented (in elections for the Legislative Council (LegCo) and the Chief Executive)
(5) for the withdrawal of the extradition bill, which would allow for extradition to mainland China

The ongoing story of the people of Hong Kong amidst this mass movement for the fulfillment of these five demands is one of major political, economic, and social significance because the world is watching. While the question of extradition under the "one country, two systems" arrangement is off the table – the bill was suspended in September 2019 but not formally withdrawn (as per the demands) until October 23 – clashes still persist and violence is on the rise. This represents a highly omnipresent trend in movements for combating political corruption, police accountability, and moreover, a population that strongly desires equality and justice. The demonstrations have been led by groups of young people, who see that their future is most at stake. The protests are fluid, decentralized and are grassroots movements with no end in sight.
What's striking about this ongoing game of cat-and-mouse for justice for the people of Hong Kong is how the international community is reacting to the demonstrations as they escalate. When scholars, analysts, policy-makers and other stakeholders try to unpack these mass protests, a prominent mould in thinking in international affairs and in life stands out: the ideals of the West vs. those of the People's Republic of China (PRC). Hong Kong is a special case. It was a British colony until 1997. The United Kingdom and China signed a joint declaration in 1997 that stipulated that Hong Kong was to remain on course for a democratic political system, while re-joining the PRC. This was the "one country, two systems" in which China was expected to honour the democratic system in Hong Kong until 2047, after which the Chinese Communist Party (CCP) would have full reign over the city and its future trajectory. The breach of this declaration, with the extradition bill, was the biggest factor causing the protests.

Before the extradition bill, democracy in Hong Kong and a potentially independent future from China was a minority view. Clashes arose in 2014 with the rise of the Umbrella Movement in response to Beijing's 'pre-screening' of candidates for LegCo elections in 2017, but they subsided after the elections occurred. From a political standpoint, a plethora of voices have called on the U.S. and Europe to condemn Beijing's stance on Hong Kong's autonomy status, and its reaction to the protests. The response from the West has not proven to be well-received by China nor by Hong Kong. While U.S. President Trump simply called what's happening in Hong Kong, "truly sad," some figures such as Hong Kong's leader Carrie Lam deem it as "a move to interfere with HKSAR [Hong Kong Special Administrative Region of the People's Republic of China] affairs." On November 28, the U.S. passed the Hong Kong Human Rights and Democracy Act which mandates an annual review of Hong Kong's autonomy to justify its special status with the U.S, prompting a harsh warning from Beijing to the U.S. that it can slap on countermeasures. This Act was was pushed to the forefront by Washington's China hawks. Meanwhile, President Trump, despite signing the Bill, remains ambivalent and continues to antagonize China with the ongoing U.S.-China trade war, causing further tensions.

Throughout July 2019, the UK issued numerous statements indicating its "unwavering" support for Hong Kong's push for autonomy, condemning China's behaviour over the movement. Germany conducted a review of its own Hong Kong extradition accord in August 2019, resulting in Chancellor Angela Merkel's renewed call for a peaceful resolution to Hong Kong protests when she visited Beijing in September. In a joint press conference with Chinese Premier Li Keqiang, she stated that Hong Kong's rights should be "guaranteed," re-emphasizing that its citizens' rights must be respected.

The European Union released its first public stance on the demonstrations in August 2019 when it issued a joint statement with Canada. The EU and Canada urged "restraint," stipulating that dialogue is the best option in terms of coming to an agreement and that the Hong Kong government must respect its citizens' rights. On behalf of the EU, the High Representative of the Council of the EU issued its Declaration on Hong Kong on October 2, 2019, which outlines its strategy of "restraint, de-escalation, and dialogue" in order to reach a solution.

China's response to both the UK's and the EU's comments on the demonstrations has been alarming and negative as it urged the European Union and the U.S. to be "cautious" about the protests. Beijing sees Hong Kong affairs as internal affairs, denying any external players in the international community to exercise any right to intervene. It hits back when the West releases strategies and policies related to protecting Hong Kong's rights, namely by citing the "one country, two systems" stipulation as being enshrined in the Chinese Constitution and in international law. And yet, pro-Hong Kong democracy protests have been taking place in solidarity throughout the UK, France, the US, Australia, and Canada.

On November 8, 2019, BBC reported that 22-year old student Alex Chow died amidst the protests. On November 24, 2019, Hong Kong residents took to the polls in district council elections. Over 70 percent of registered voters went to the polls, and the pro-Beijing party lost more than 242 seats. Pro-democracy parties now control 17 of the 18 district councils and have tripled their seats. And yet, violence in Hong Kong protests is still on the rise, lives are continuously at stake as demonstrations continue, and despite the overwhelming positive sentiments of the people of Hong Kong towards democratization and against Beijing, the international community, namely the West, has its hands tied. The people of Hong Kong have decided what they want their future to look like in its ongoing push for democracy. Perhaps it is time for the Transatlantic community to reevaluate its steadfast approach to balancing its relationship with Beijing versus its adherence to its own values to promote freedom, autonomy, and justice worldwide.