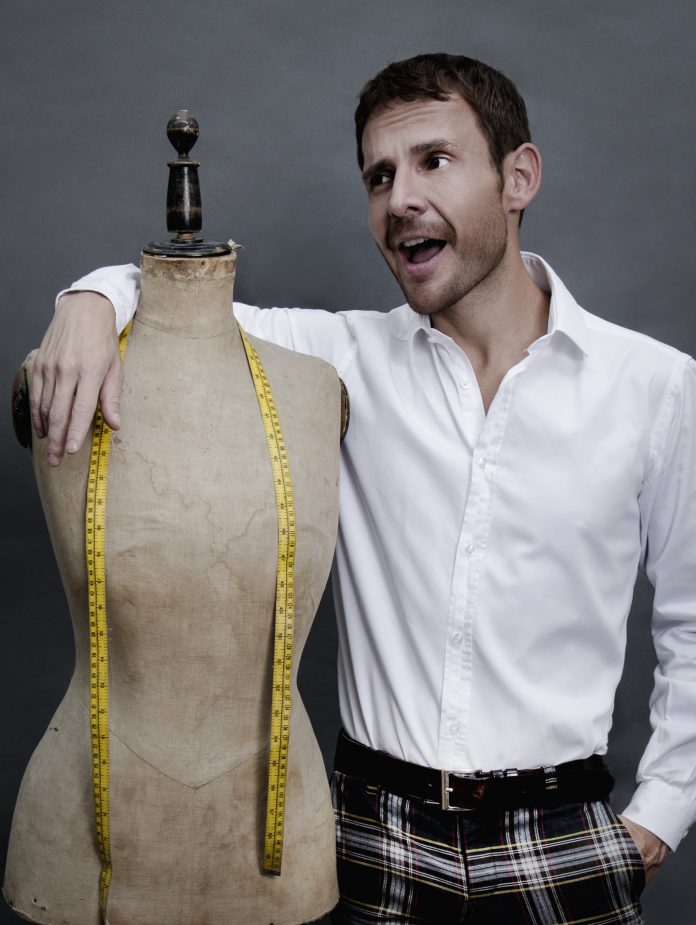 Over the past few decades, political slogans have found a space in high fashion shows, highlighting issues such as immigration, diversity and feminism. Since the 1980s, bold slogans have been featured on T-shirts- from "I am Immigrant" to "Stop Terrorising the World" and this trend shows no signs of abating. With the recent "Make America New York," designers such as Walter Van Beirendonck and Maxwell Osborne are bringing current political issues to the forefront of their designs. Marcos Valenzuela, creative designer of the Austrian luxury brand "Tiberius" and recently appointed Ambassador of Integration in Austria, suggests that fashion should, "provoke people, make them think."  Fashion is increasingly being used as a tool to draw people's attention to an issue that, at first glance, doesn't seem to affect daily life. In popular culture, fashion can bring politics to the wider public and makes it understandable and meaningful, even to those who may not engage with it on other levels.
The British brand Jigsaw's latest campaign, exemplifies the fusing of high fashion and politics. The campaign is celebrating immigration and challenges the claim that any of their products is 100% British. The main message of this campaign is that migration is a driving force in fashion. With it, Jigsaw has politicised fashion and emphasised the essentialness of an open world: 'Without immigration," the retailer said, "we'd be selling potato sacks'. The campaign runs entirely counter to the anti-immigration rhetoric that is so popular today. Through their advertisements they reveal the diversity of our modern society, demonstrating its normality and acceptability in the globalised world. But Jigsaw have gone a step further: they've enlisting staff to take genetic tests to show that the "No 100%" message doesn't just apply to their clothes but also to their people. Yet, it's not just what's on the clothes and within the companies making them where we increasingly see diversity being dealt with on the catwalk.
In Tiberius's 2017/2018 season collection, Valenzuela has worked with women from different ethnicities and backgrounds, trying to curb the trend of having blond models as the beauty standard. In Tiberius' coming collection, men and women from diverse geographical backgrounds such as Asia, Latin America and Africa will be the standard of beauty. Valenzuela sees this as an educating role for consumers. "I do play with emancipation," Valenzuela said, "I do play with feminism. The placement of women from different ethnicities shows this utopian world what we should become. I try to show my customers that we should be cosmopolitan, we need to open our minds to other cultures." Outside of Austria, designer Christian Siriano profoundly used the presentation and politicisation of beauty standards within his spring 2018 collection at New York Fashion Week.  Transgender and plus-size models as well as models of and diverse ethnicities walked in his show. The idea was loud and clear – to be progressive and not to limit his clothes just to small percentage of people, but to open fashion up.
This is a modern world and it is time to admit that fashion should be for everyone. Designers are able to raise and popularise issues that are beyond borders because fashion has no barriers. With the help of social media, it is now not just big brand designers who can achieve this – global social media allows grassroots trends and these can travel far and fast. Last year, the unifying clothing item for the women's march, possibly the largest coordinated protest in American history with sister marches all over the world, was the "pussyhat." Politics were made and worn by the protesters themselves, creating a sea of pink marching up Independence Avenue. In this moment, fashion had a voice, united the population and was heard globally, only because social platforms gave the campaign wings to be phenomenal and provocative. "Designers try to say to politicians that we cannot any more think of boundaries, we have to think globally without injuring the economy and cultures," Valenzuela suggests. But, "Fashion makes possible the connection of people all around the world, helping them not to be afraid of leaving a cocoon."