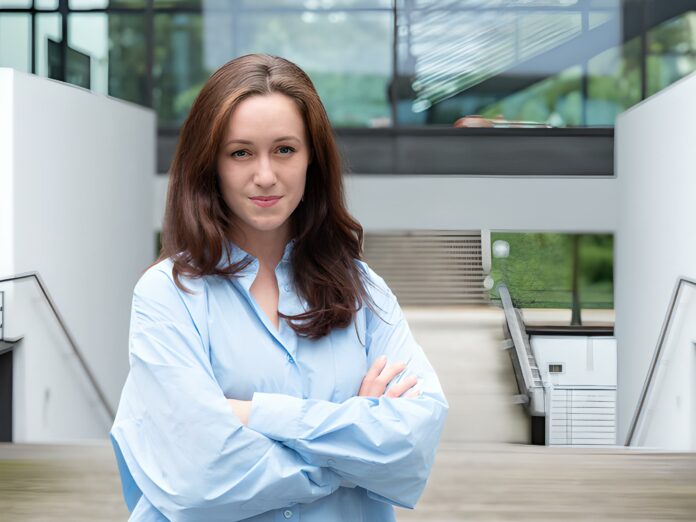 "Politics and diplomacy are the sublimation of lying. Sometimes [diplomats and politicians] do have to lie. I understand that. But as a journalist, I have to write the truth." This quote by Oriana Fallaci, the late journalist famous for asking world leaders tough questions, comes to my mind while talking to Catherine Lankes, a multimedia journalist at Deutsche Welle and alumna of the Diplomatic Academy's 20th MAIS (Master of Advanced International Studies) program and Columbia Journalism School's class of 2020.
The quote reflects a widely held idea that good journalism must challenge power. In other words, accomplished journalists need to be knowledgeable and ready to challenge the powerful in their reporting. This very idea has spurred Catherine to study at the Diplomatic Academy. After her translation and interpreting studies in Vienna, she applied for the MAIS program knowing that she would stay in journalism in the long run. "Okay, now that I studied languages, I need to know something, and I want to know what the other side knows," she says. Catherine never wanted to find herself reliant on the word of politicians to find and report the truth. She wanted to have the same information and be able to go toe-to-toe on issues that affect people's lives. That's why studying at the Diplomatic Academy seemed like a logical next step in her career.
Completing the MAIS program helped Catherine gain an in-depth understanding of the nuts and bolts of international politics. For instance, although she had found little joy in studying notorious European Union law back in the day, she admits that her institutional knowledge of the EU allowed her to confidently navigate these murky waters while covering the EU from Brussels. "EU law is the only subject I keep the notes of on my computer. I go back to EU law, probably at least once a quarter," she reveals.
Catherine loves her job as a multimedia journalist because there's no typical day. "And that's the great thing about this job. Anything and everything can happen." Given the versatility of her job, you will often find her having her computer and cell phone within arm's reach to either edit videos or monitor news outlets. Working as a multimedia journalist requires a lot of flexibility, improvising, research, and management skills, such as getting the necessary equipment or coordinating the camera team on short notice.
In the fast-paced world of journalism, I could not help but ask Catherine how she manages to stay on top of the many deadlines she faces in her job. Funnily enough, she describes herself as a procrastinator, which has often led her to complete a day's worth of work within a few hours given a looming deadline. Yet, for this very reason, Catherine loves to work in news reporting since news pieces are relatively short and everything in her job has to happen right away. "I feel like my whole academic life has trained me for this moment," she says with a grin. "You write this report in a few hours that will take other people three days—it is possible because you are trained to do that."
Speaking of training, I ask Catherine if she has some advice to share for those of us new to journalistic writing. Catherine started her journalistic career at a major Austrian tabloid ten years ago, where she learned the democratic value of accessible and easy language. "I think it's elitist to write in a way that is so wildly structured that people will need five times to understand it. If you want the news to get across fast, you can't expect anyone to sit down and read this thing five times." The key is to write short sentences using straightforward language to resonate with a broad audience. On top of that, each piece needs to be boiled down to one sentence that explains your whole story, easy and short enough to shout it to someone across the room. Once you have that one sentence, structuring your ideas becomes more manageable. The goal is to cut all excess fancy wording in your writing and use plain everyday language on paper.
I feel tempted to open a big can of worms and ask Catherine about her perspective on neutrality in news reporting. "It's difficult, in my opinion. You have to be fair, and you have to do your utmost to report correctly. But neutrality doesn't exist. We're all human and have a bias," she says. "The idea that we need more 'objective, neutral, and unbiased' journalism is starting to feel a little outdated. I still strongly subscribe to the idea, though. You do owe it to your audience to be as objective as possible. But then again, you also have to have an opinion. So, it's always a difficult line to walk." She explains that striking a balance between objectiveness and opinion-heavy reporting has become a challenge of our time because audiences increasingly want easy access to ready-made opinions. "It's a challenge you're confronted with every single day and that you have to reevaluate for every story." One of the dangers of walking this line, according to Catherine, is to venture into "bothsidesism" where journalists end up falsely treating two opposing sides as equally powerful, persuasive, valid, or dangerous in an attempt to be radically "neutral."
Catherine also notes that fairly reporting the news has become more complicated and riskier since the global uptick in right-wing populism. "The trust that those right-wing populists have gained all over the world has increased that sphere of mistrust against journalists." She tells me how journalists have become accustomed to regularly texting confidants about their whereabouts and bringing scarfs when covering protests because you never know what might come flying. The need for these safety measures illustrates how some serious political forces at work today oppose the idea of a free press and fundamental democratic values.
In the face of adversity, Catherine does take pride in her work because she fully believes in what she does—which not everyone can say of their work. Indeed, she could have found a better-paying job after graduating from the DA. Instead, she resolved to go to journalism school abroad, significantly improving her chance of jumping into the international sphere of news reporting. Although her decision to attend Columbia Journalism School soon after the MAIS program put her under financial pressure, Catherine's dedication remains immense. I sense her passion for journalism as she tells me how privileged she feels to produce palatable news packages about some of the world's most gripping issues so that other people become interested in following. "As a journalist, you truly live the world. Only a few jobs open the world more to you than journalism. After all, it's a very democratic job, and journalism is very important to democracy, especially at times like these."
Written by Maximilian Müller