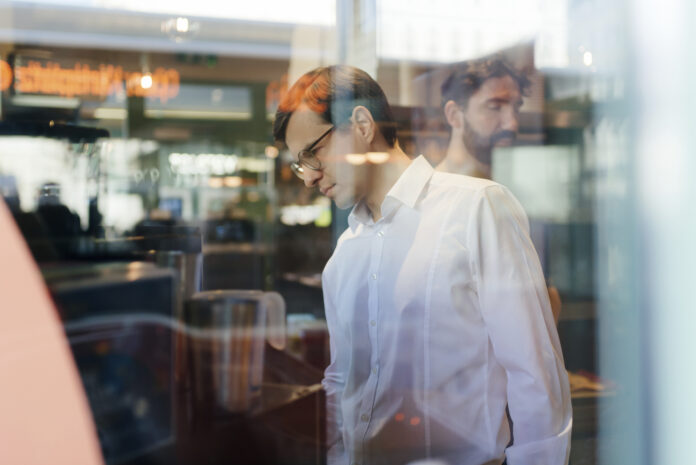 Originally, our conversation with Daniil was not planned to take place as a video call. "A bit too many lockdowns," he sighed when we chatted about life in Vienna at the start of our conversation. An understandable assessment coming from a restaurant owner in these times. Ten years ago, things looked quite different, and moving to Vienna after finishing his studies of international relations in St. Petersburg was a straightforward decision for Daniil, one he does not regret. It's the city where he saw his career path unfold, met most of his current friends and business partners, left for a sabbatical in Dubai, and came back to open the vegan, Russian-inspired eatery Tolstoy.
Deviating from what was originally planned is, however, quite familiar to Daniil, a former Master of Advanced International Studies (MAIS) student who came to Vienna for mainly one reason: the United Nations Office. And, according to schedule, this is where he secured a one-year internship during his studies, and afterwards continued as consultant. But just after having started working in a coveted P1 position [Entry Professional] at the International Atomic Energy Agency, an autonomous organization within the United Nations (UN) system, Daniil quit. "Everybody was saying that I was insane. No one gives away a P1 position just like that," he told us. But for him, it was a cut he needed to make. Looking back at his two years at the UN, he used terms like "boring" and "frustrating" to describe it. Decision-making took a long time. Too long for a restless guy like Daniil.
After having realized that his original dream was no longer worth pursuing, Daniil landed in strategy consulting at McKinsey, where he worked with some of the world's largest corporations. The support he received from the DA career center, headed at the time by Elisabeth Hofer, had largely paved the way to this new experience. We asked about his background in business. "We had Professor Neudeck," Daniil answered, "his lecture really got me interested in economics." If he had to pick one thing that stuck with him from his time at the DA, it would be the recently retired economic professor's inputs. And although he might have taken an unconventional path following his graduation in 2014, the support from the career center, his economics classes, and all the contacts he established had a decisive impact on where Daniil stands today – which is in his own restaurant business in the city center, located right next to Vienna's most popular market square, the Naschmarkt.
Stop doubting, start doing
Despite McKinsey providing him a challenging and instructive environment and allowing him to travel to places like Paris, London, or Jamaica, it was yet again Daniil's curiosity and drive to explore the unpredictable that led him to conclude that the corporate world was not going to provide him with interesting challenges in the long term. He left the consulting business and moved to Dubai for six months. In that regard, 2019 was a turning point. "I always had ideas but never executed them," he explained. That year, however, Daniil made a crucial New Year's resolution. To make things really count this time, he posted his resolution publicly on his Facebook account, declaring that 2020 would be the year he will be brave enough to bring his visions to life. It was time to start his own business. "Once you stop doubting your every thought and start doing things, things fall together," Daniil declared.
While spending some time in Moscow to work in and get to know the restaurant business, Daniil started to make plans for his own restaurant. He described the process as feeling somewhat "schizophrenic (…), you are doing something and talking about something that does not exist." Daniil's first idea was to start a Russian fast-casual concept, but he soon realized that there was no market demand for it. The decision to open a fully vegan eatery was thus not just based on personal convictions – although reading books like "How Not to Die" by Dr. Michael Greger or "The Omnivore's Dilemma" by Michael Pollan convinced him that the vegan diet is the healthiest one to follow – but also on the assumption that Europe will soon follow the plant-based trend that had already been booming in the US.
Paradoxically, Daniil does not see Tolstoy as a restaurant. "We are a technology company," he proudly explained. Indeed, its own in-house built software ecosystem can be considered its main competitive advantage. It allows the team to track and follow every product along the value chain, evaluate inefficiencies along the way, and consequently improve all the restaurant's processes from sourcing to production to delivery. For Daniil, building a technology-based business was a priority, and he is convinced that the software will allow Tolstoy to further improve the customer experience and scale the business.
Besides being a digital business, Daniil is confident that transparency is key in today's world: "There is no point in hiding anything, so we might as well embrace it and make a reality show out of it." For Tolstoy, the "reality show" is the public availability of their sales statistics on their website. Internally, Daniil described a strong open error culture. Openly talking about mistakes is encouraged at every level. "It starts with me. If I f*** up, I will talk about it," he assured.
An entrepreneurial personality
In the future, Tolstoy may be just one of many brands operating as franchisees under Daniil's guidance. At the end of our conversation, we had no doubt that he might indeed surprise us with a coffee chain or a sushi place. And if such a business entails some considerable risks – even better. "Predictability frustrates me," Daniil stressed at various points in our conversation, "I don't like to know what will happen in two weeks, or in a month, or in a year. Unpredictability is what excites me."
If Daniil suffers from an inherent fear of getting bored, he makes sure to provide the remedy himself. "In five years, I see Tolstoy operating 100+ restaurants all over Europe," he confidently predicted. The foundation for this ambitious goal has already been set with the planned 2022 opening of a second restaurant in Barcelona. After getting to know Daniil, his transition from the Diplomatic Academy into entrepreneurship is hardly surprising. On the contrary, he probably always had an intrinsic passion for creating things beyond the ordinary, challenged by randomness and risks.
Of course, being inclined to unpredictable environments and big visions is to some extent a personality trait. But after talking to Daniil for almost an hour, we could not help but feel empowered. His story is more proof that life is not intended to go as planned; it entails wrong decisions and may require venturing into completely unknown terrain. But don't we all have some entrepreneurial spirit inside us?
Written by Andrea Gutschi & Maximilian Pieringer; Photo Credit to Tinkoff Journal